Welcome address of HCMUTE president at 59th assessment of AUN-QA for 3 training programmes.
"Good morning Ladies and Gentlemen,
It is my great honour to welcome AUN leaders and secretariat, AUN-QA assessors
Dr. Choltis Dhirathiti AUN Deputy Executive Director
Mr. Korn Ratanagosoom AUN Senior Programme Officer - Higher Education Innovation
Prof. Dr. Satria Bijaksana from Institut Teknologi Bandung
Dr. Robert Roleda, De La Salle University, assessors for Mechatronic Engineering Technology program
Assoc. Prof. Dr. Kamolwan Lueprasert from King Mongkut's University of Technology
Assoc. Prof. Dr. Yahaya Md. Sam from University Teknologi Malaysia, assessors for Electrical and Electronics Engineering Technology
Dear Prof. Dr. Marilou G. Nicolas from University of the Philippines,
Dr. Fredinan Yulianda from Bogor Agricultural University (IPB), assessor for Automotive Engineering Technology,
Welcome you all to Ho Chi Minh City University of Technology and Education.
Today is a very special day for our staff and students. Today marks the day for the first time, the quality of our 3 training programs is benchmarked with regional criteria, AUN-QA criteria. And it is even more special if one takes into account the fact that Ho Chi Minh University of Technology and Education has three programs to be assessed by AUN at the same time, and that it's our first assessment. In alignment with the AEC which has come into effect, this 54th school year (2015-2016), International Integration is the focus in every area of the university operation and this 59th assessment will further help HCMUTE be internationally integrated.

Ladies and Gentlemen!
Quality assurance is put in priority of this university. We were the first 10 accredited Vietnamese universities in 2005 and the first engineering university applied ISO 9000. Since then, We had our staff trained in many QA workshops nationally and internationally whenever the opportunities arouse. Dr Choltis and Mr Korn may know this well that since 2013, HCMUTE has sent 6 faculty and managers to AUN-QA tier 1 and tier 2 training, 2 more are coming for tier 1 training this April in Bangkok. AUN-QA model at all levels have been gradually adopted in our university. I would like to take this opportunity to thank AUN leader Dr. Choltis and Secretariat Mr. Korn for the opportunity for HCMUTE to be an associate member of AUN-QA and part of TrainIQA project.

Ladies and Gentlemen!
In Vietnam, HCMUTE is famous for its quality training programmes. We are the first university in Vietnam redesigned all curricula by CDIO approach with the participation of stakeholders. Our graduates have always been well sought not only in the country but also overseas. Just an example to confirm the judgment on our training quality, HCMUTE was selected by Intel Products Vietnam and USAID as the top five engineering universities in Vietnam where it has invested millions of dollars for staff development and facilities for those universities in HEEAP (higher engineering education alliance program) with the hope that those top engineering universities will be change agents in higher education in Vietnam and be models of quality education providers. We are the only engineering university in Southern Vietnam to receive a Digital Learning Studio to support online and blended learning from Intel Products VN with the value up 300.000 US dollars, the only institution to get a very modern Power system Lab sponsored by General Electric, with equipment alone value up to 1 million US dollars, or one of the only two to receive a very modern then Automation Lab from Rockwell Automation. In the past ten year Toyota Vietnam for example has invested in Vehicle and Energy Engineering Faculty over 2 millions US dollars for 2 TTEP centers. I believe those cooperates don't just invest anywhere, but they were convinced with our program quality through our alumni great achievement. With our programs to be assessed by AUN-QA, companies like those I just mentioned, or future students and parents and other stakeholders will have stronger evidence to confirm their belief in HCMUTE education quality. We really look forward to receiving the recommendation from our experienced AUN-QA assessors to further enhance the quality of our training programs.

Dear Assessors, I know you have been working hard with our self-assessment reports before you visit us and you are going to work very hard the next few days. Thank you very much for your time, efforts and the expertise you are going to share with our program teams.

Thank you very much Dr Choltis Dhirathiti and Mr Korn Ratanagosoom for the organization of this assessment.
To the three program and management teams of Faculty of Electrical and Electronic Engineering, Faculty of Mechanical Engineering and Faculty of Vehicle and Energy Engineering, You have always been working very hard and contributed significantly to the success of HCMUTE but I know the last few months you have been working even harder to assemble the Self assessment report and preparation for this event. Thank you very much for your hard work and dedication to the University. I am sure you will find this assessment a rewarding experience and an important milestone of your programs.

I also would like to take this opportunity to thank the management team and support staff at various departments, offices and centers, especially the head Mr Ngan, deputy head Ms Thuy and all staff of Quality Assurance Office. Thank you very much for professionalism and your great support to the program teams.

Thank you very much once again and I hope you all have a good time at HCMUTE."

​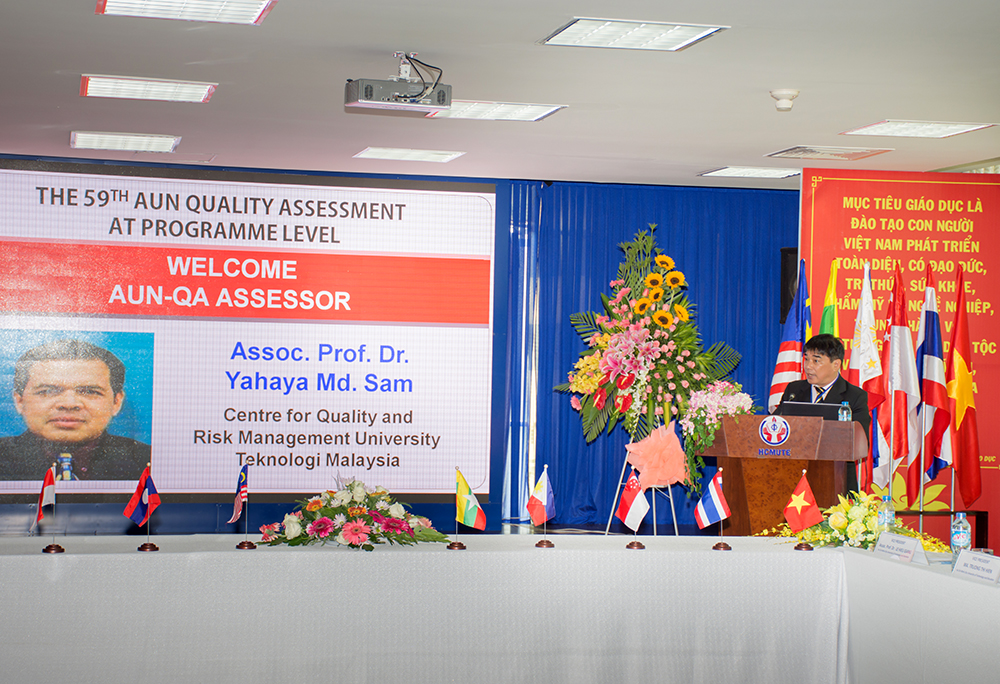 ​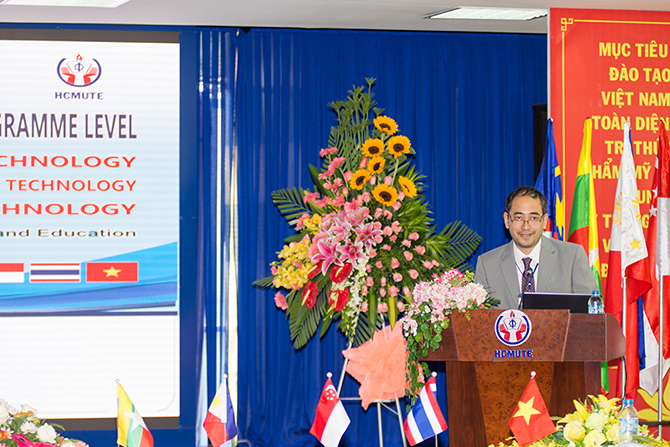 ​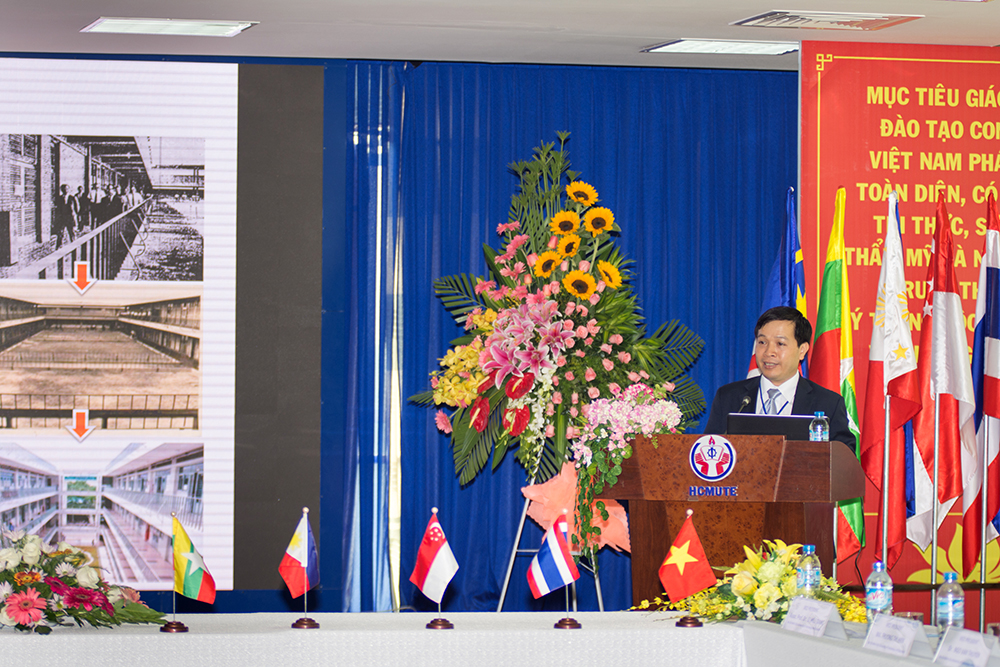 ​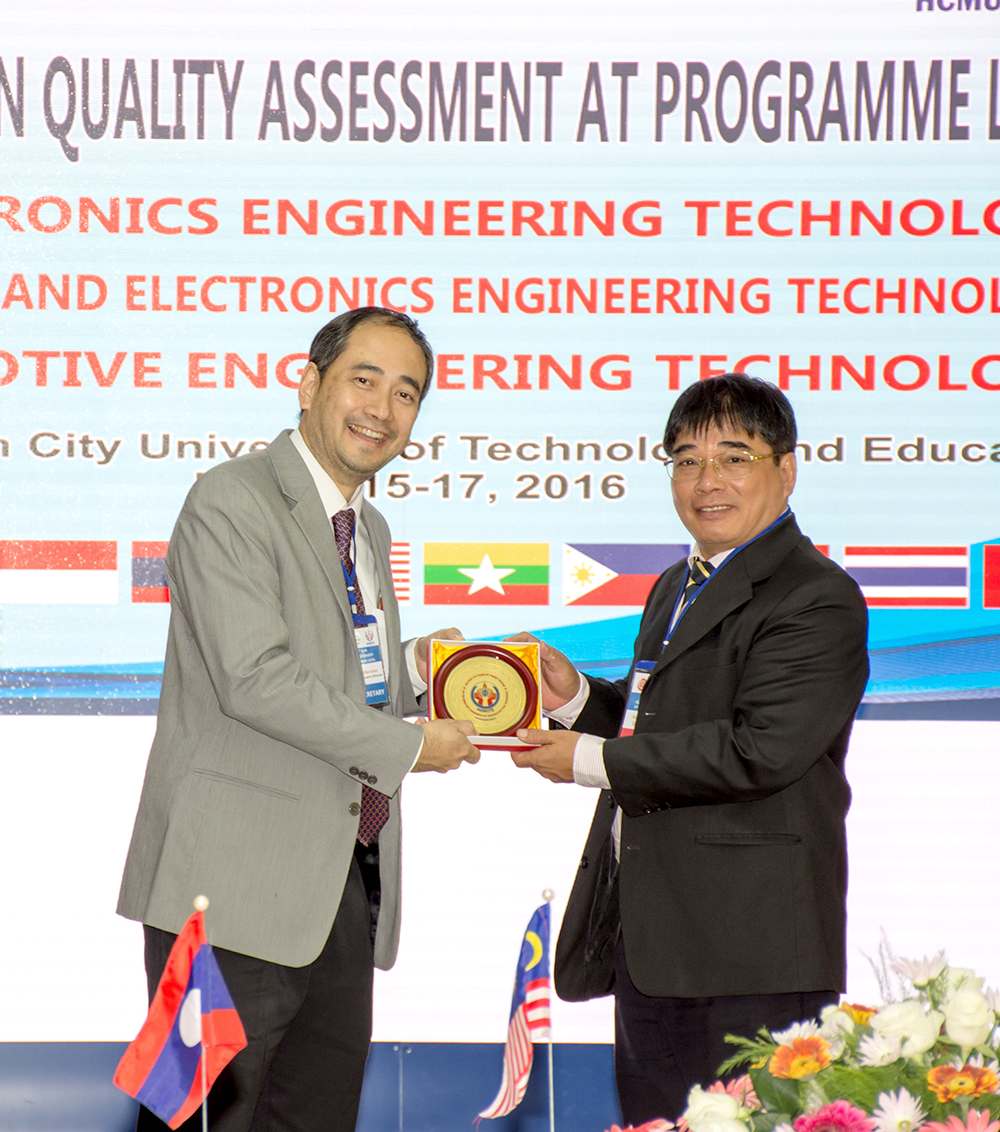 ​
http://qao.hcmute.edu.vn/ArticleId/1e696995-83e5-4391-97b5-6a6deb22920a/le-trao-chung-nhan-3-chuong-trinh-dao-tao-dat-chuan-aun-qa
https://hcmute.edu.vn/ArticleId/6ce7d011-1003-43fa-a6bc-52f996b0840f/chuc-mung-3-chuong-trinh-dao-tao-cua-truong-dai-hoc-su-pham-ky-thuat-tphcm-dat-chuan-aun-qa
Welcome address of HCMUTE president at 59th assessment of AUN-QA for 3 training programmes.